Presentation by the President |
Q & A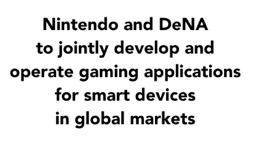 Iwata:
Nintendo and DeNA will jointly develop and operate gaming applications for smart devices in global markets.
With this alliance, new entertainment that utilizes Nintendo's IP will be provided globally via smart devices.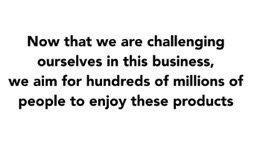 Iwata:
Needless to say, now that we are challenging ourselves in this new business area, we hope that hundreds of millions of people will use and enjoy these products.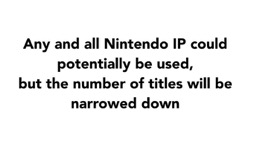 Iwata:
As for which Nintendo IP will be used, we do not intend to make any exceptions. Potentially, any Nintendo IP could be used in our smart device software. On the other hand, as I just said, games on smart devices require ever-evolving services rather than just being a finished product. A combined effort will be necessary to operate them. People's attention would only be dispersed if we simply increased the number of the titles we simultaneously released, and we could not expect to expand our business. Accordingly, we will narrow down the titles for development and operation to some extent.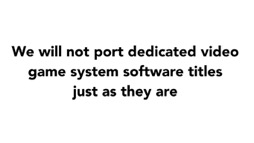 Iwata:
Please also note that, even if we use the same IP on our dedicated video game systems and smart devices, we will not port the titles for the former to the latter just as they are. There are significant differences in the controls, strengths and weaknesses between the controllers for dedicated game systems and the touchscreens of smart devices. We have no intention at all to port existing game titles for dedicated game platforms to smart devices because if we cannot provide our consumers with the best possible play experiences, it would just ruin the value of Nintendo's IP.
And, if I can talk a bit further about our game development plan, we will continue doing our best to develop dedicated game titles for our dedicated game hardware platforms just as we have been doing. For smart devices, even in the case where we utilize the same IP, we will create completely new game software that will perfectly match the play styles of smart devices.
As for the details of the game applications for smart devices, we will make the announcements on other occasions. I hope you will look forward to our future announcements.
Iwata:
While this is not something directly relating to the collaboration that we have announced today, here is one thing I would like to mention to avoid any misunderstandings.
Nintendo has decided to deploy its video game business on smart devices but it is not because we have lost passion or vision for the business of dedicated video game systems. On the contrary, now that we have decided how we will make use of smart devices, we have come to hold an even stronger passion and vision for the dedicated video game system business than ever before. Nintendo has made this decision because we have concluded that the approach of making use of smart devices is a rational way for us to encourage even more people around the world to recognize the great value of the wonderful game software available on our dedicated game systems.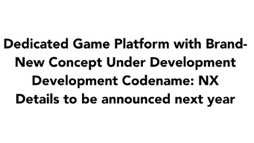 Iwata:
As proof that Nintendo maintains strong enthusiasm for the dedicated game system business, let me confirm that Nintendo is currently developing a dedicated game platform with a brand-new concept under the development codename "NX." It is too early to elaborate on the details of this project, but we hope to share more information with you next year.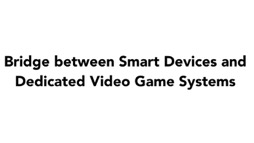 Iwata:
Smart devices have the widest reach and, thus, have the strongest potential for us to be able to connect with the largest number of consumers.
We aim to construct a bridge between smart devices and dedicated video game hardware that connects consumers to our dedicated video game systems.
For the consumers who are connected with Nintendo through smart devices and interested in Nintendo's IP, we would like to provide even more premium gameplay experiences on Nintendo's dedicated game platforms. By taking this approach, we firmly believe that doing business on smart devices will not shrink our dedicated video game system business and will instead create new demand as this broader reach will enable us to provide consumers around the world with more opportunities to experience the appeal of Nintendo IP, and instead of trying to seize the other's demand, dedicated video game systems and smart devices will benefit from the synergies created between them.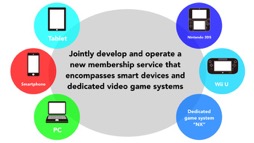 Iwata:
Nintendo, together with DeNA, will jointly develop a new membership service which encompasses the existing Nintendo 3DS and Wii U systems, the new hardware system with a brand-new concept, NX, and smart devices and PCs, and Nintendo will be the primary party to operate this new membership service. Unlike the Club Nintendo membership service that Nintendo has been operating, the new membership service will include multiple devices and create a connection between Nintendo and each individual consumer regardless of the device the consumer uses. This membership will form one of the core elements of the new Nintendo platform that I just mentioned.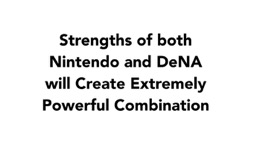 Iwata:
The two companies have decided to collaborate because, for the challenges we explained today, the strengths of both Nintendo and DeNA will create an extremely powerful combination.
And now, I would like to ask Mr. Moriyasu of DeNA to speak.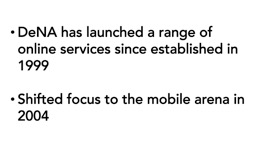 Isao Moriyasu (President and CEO DeNA Co., Ltd.):
Hello, I'm Isao Moriyasu, President and CEO of DeNA. Thank you for joining us today despite our sudden invitation.
Please allow me to share background and objectives of our new alliance from DeNA's perspective.
Ever since DeNA was founded in 1999, we have launched a range of online services. In 2004, we shifted our focus to the mobile arena and accumulated world-class expertise in building and operating mobile services.