Presentation by the President |
Q & A
If you quote any or all of this presentation, please display the URL of this website or put a link to this website.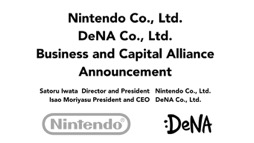 Satoru Iwata (Director and President Nintendo Co., Ltd.):
Thank you for attending this briefing at such short notice.
I am Satoru Iwata, president of Nintendo. Together with Mr. Isao Moriyasu, president of DeNA Co., Ltd., I would like to explain the business and capital alliance of the two companies that each company announced earlier today.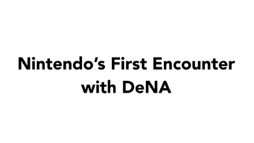 Iwata:
I met Mr. Moriyasu for the first time in June 2010.
Mr. Moriyasu first approached us with a proposal to use Nintendo IP in their mobile games. He was very passionate about the prospect of collaborating with Nintendo in some way, so we have continued our talks since then.
At some point in the past, I realized that there would be great potential for global synergy by combining the efforts of the two companies, as we would face dynamic environmental changes. Since then, in addition to my discussions with Mr. Moriyasu, key persons from both companies have been discussing these possibilities.
As a result, we have concluded that we will be able to create great synergies by forming a business alliance and leveraging the two companies' strengths.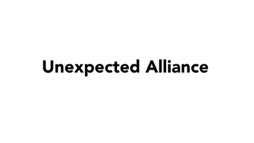 Iwata:
I think that for most of you here today, our alliance may have been unexpected. So, I would first like to explain the background and our objectives for this business alliance with DeNA.
Iwata:
As you know, Nintendo has been globally deploying its hardware-software integrated platform business since the debut of Nintendo Entertainment System (known as "Family Computer System" in Japan) in 1983 and, fortunately, Nintendo has become a well-known video brand name throughout the world.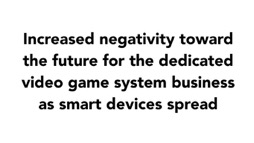 Iwata:
On the other hand, in recent years, with the spread of smart devices, we have increasingly heard a variety of opinions on the future of the dedicated video game system business, and in particular relatively pessimistic ones.
We lost the balance of revenue and expenses as the era of the super strong yen occurred during the transition periods from Nintendo DS to Nintendo 3DS and from Wii to Wii U, and we were not able to make these platform transitions as smoothly as we had expected. I understand that this situation has motivated people to suggest that dedicated video game systems too may be consumed by smart devices since the latter has already been said to have consumed a variety of dedicated devices such as digital music players, digital cameras and car navigation systems.
Iwata:
However, there is an obvious difference between Nintendo's dedicated video game systems and other dedicated devices, which are said to have been displaced by smart devices: Nintendo is the biggest game software provider for its dedicated video game hardware. Even though "who is providing applicable content" must be a very important factor, the pessimistic view on dedicated game systems neglects to acknowledge this difference.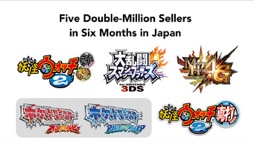 Iwata:
Last year, an unprecedented thing in the history of the Japanese video game market happened: Five titles for Nintendo 3DS sold more than two million copies each in the latter six-month period of 2014. As this record-breaking incident attests, video game software sales have been progressing smoothly on dedicated video game hardware even after smart devices have become widespread in this country.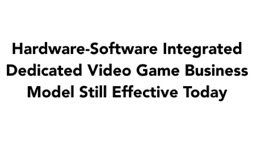 Iwata:
Of course, the challenge of asking our consumers to purchase dedicated video game hardware has become harder now that smart devices have widely spread. However, we recognize that our business model of producing both video game hardware and software is effective even today, and we do not share this pessimistic view of the future for dedicated video game systems.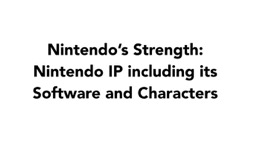 Iwata:
When we further analyze the situation, Nintendo's strength lies in, or our consumers see the most value in and are willing to pay money for, Nintendo IP, such as our software and characters, and we have been creating and nurturing them together with the history of home video game entertainment.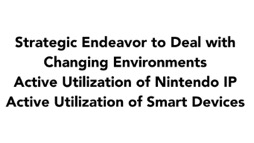 Iwata:
In order to flexibly deal with the developments of the Internet and social media as well as the changes in the people's lifestyles, we will start strategic endeavors so that Nintendo can maximize the value of our IP that we have used primarily for our own dedicated game platforms.
I announced Nintendo's management policy of "more actively utilizing Nintendo IP" and "taking advantage of smart devices" in our Corporate Management Policy Briefing back in January 2014. The endeavors that I am explaining now are in line with these management policies.
On the other hand, if we are to maximize the value of Nintendo IP while the competition to attract consumers' attention is fierce, we must deliver the value of Nintendo IP in a stress-free fashion to our consumers around the world who are living in varying environments.
This is why Nintendo has decided to utilize smart devices aggressively.
Very simply put, it is structurally the same as when Nintendo, which was founded 125 years ago when there were no TVs, started to aggressively take advantage of TV as a communication channel. Now that smart devices have grown to become the window for so many people to personally connect with society, it would be a waste not to use these devices.