Nintendo Co., Ltd. (HQ: Kyoto Minami-ku; President and Representative Director: Tatsumi Kimishima) announced that its newest game system, Nintendo Switch™, will launch on March 3, 2017 at an MSRP of 29,980 yen (tax not included).
Contents of the System Set: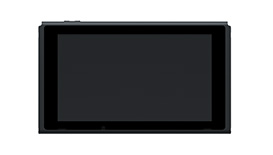 Joy-Con™ (L) and Joy-Con™ (R):
Dedicated controllers
Joy-Con grip:
An accessory that allows you to attach two Joy-Con controllers to use as a single controller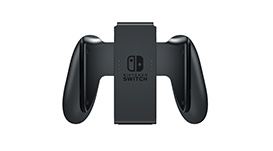 Joy-Con wrist strap:
A strap that can be attached to the Joy-Con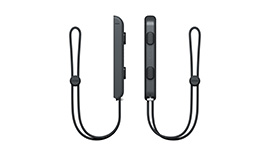 Nintendo Switch dock:
Holds the system and connects to your home television or other monitor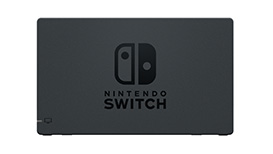 Note: Two set variations will be launched, one with a neon blue Joy-Con (L) and a neon red Joy-Con (R), and one where both Joy-Con controllers are gray.
Nintendo Switch is a home video game system that can connect to your home television or other monitor, and is also a portable video game system that weighs about 300 g with a 6.2 inch LCD screen.

The Joy-Con (L) and Joy-Con (R) controllers can be detached from the system for a variety of unprecedented playstyles. They can be attached to the Joy-Con grip to be used as a single controller, or held separately in each hand and controlled freely using the motion control features in both the Joy-Con (L) and Joy-Con (R). You can give one to another player to enjoy shared play together, or you can attach both of them to the system and play while viewing the system screen in handheld mode. Choose the playstyle that fits your play location, the game content, and your own preferences. In addition to the features of past game controllers, the Joy-Con controllers have incredible expressive power due to new features such as the IR Motion Camera that can sense the distance, shape, and motion of nearby objects, and the HD rumble feature that can convey detailed tactile sensations, such as the feeling of ice cubes tumbling against each other in a glass.
With Nintendo Switch, you get the experience of a console-type game system and the freedom of play offered by the Joy-Con controllers that let you play anywhere with anyone. Furthermore, you can connect up to eight systems to enjoy local play.
At the presentation today, President Kimishima described Nintendo Switch as "a new home gaming system that diversifies the ways you can play video games" and stated that "we want to offer the world new entertainment experiences that take advantage of the characteristics of the Nintendo Switch hardware and the Joy-Con controllers."
Nintendo's internal development teams and external partners are developing game software that shows off the strengths of Nintendo Switch, which integrates these many unique features with Nintendo's decades of experience in interactive entertainment. Some of these titles were introduced during today's presentation, including The Legend of Zelda: Breath of the Wild (MSRP 6,980 yen), a long-awaited title for fans across the world, and 1-2-Switch (also 4,980 yen), which will launch alongside Nintendo Switch and which encourages players to look at each other instead of the television screen – a new experience made possible by the nuanced expression of the Joy-Con controllers. Nintendo believes this title and Nintendo Switch will become must-have items for parties across the world.
See the official Nintendo Switch website for details on the hardware, compatible software, accessories, online services, and the dedicated Nintendo Switch smart device application for parents.
http://www.nintendo.com/switch/
Nintendo Switch will launch simultaneously in Japan, the United States, Canada, major European countries, Australia, and Hong Kong on March 3, and is planned for launch in many countries across the world by the end of March.
Nintendo is actively using its intellectual property (IP) and releasing its own applications for the many smart devices across the world in order to bring its IP and games to people who were not interested in video games before. Nintendo will also continue to provide high-quality software and exciting experiences on the Nintendo 3DS handheld video game system, with 62 million units already across the world. In addition, Nintendo will take a bold step forward this year by launching Nintendo Switch, which provides the immersive entertainment experiences only possible on a dedicated video game system, as part of its ongoing mission to put smiles on people's faces around the world.