Since its opening, SUPER NINTENDO WORLD at Universal Studios Japan has gained worldwide attention from fans and guests who continue to level up with excitement while experiencing the land's rides, interactive themed entertainment and game play featuring iconic Nintendo characters.
To further immerse guests into Nintendo's well-known series of games, Universal Studios Japan will expand the land to include a new area themed after Donkey Kong.The area will feature a roller coaster, interactive experiences and themed merchandise and food. Guests will be able to take a walk on the wild side through the lush jungles where Donkey Kong and his friends live. The new area is set to open in 2024.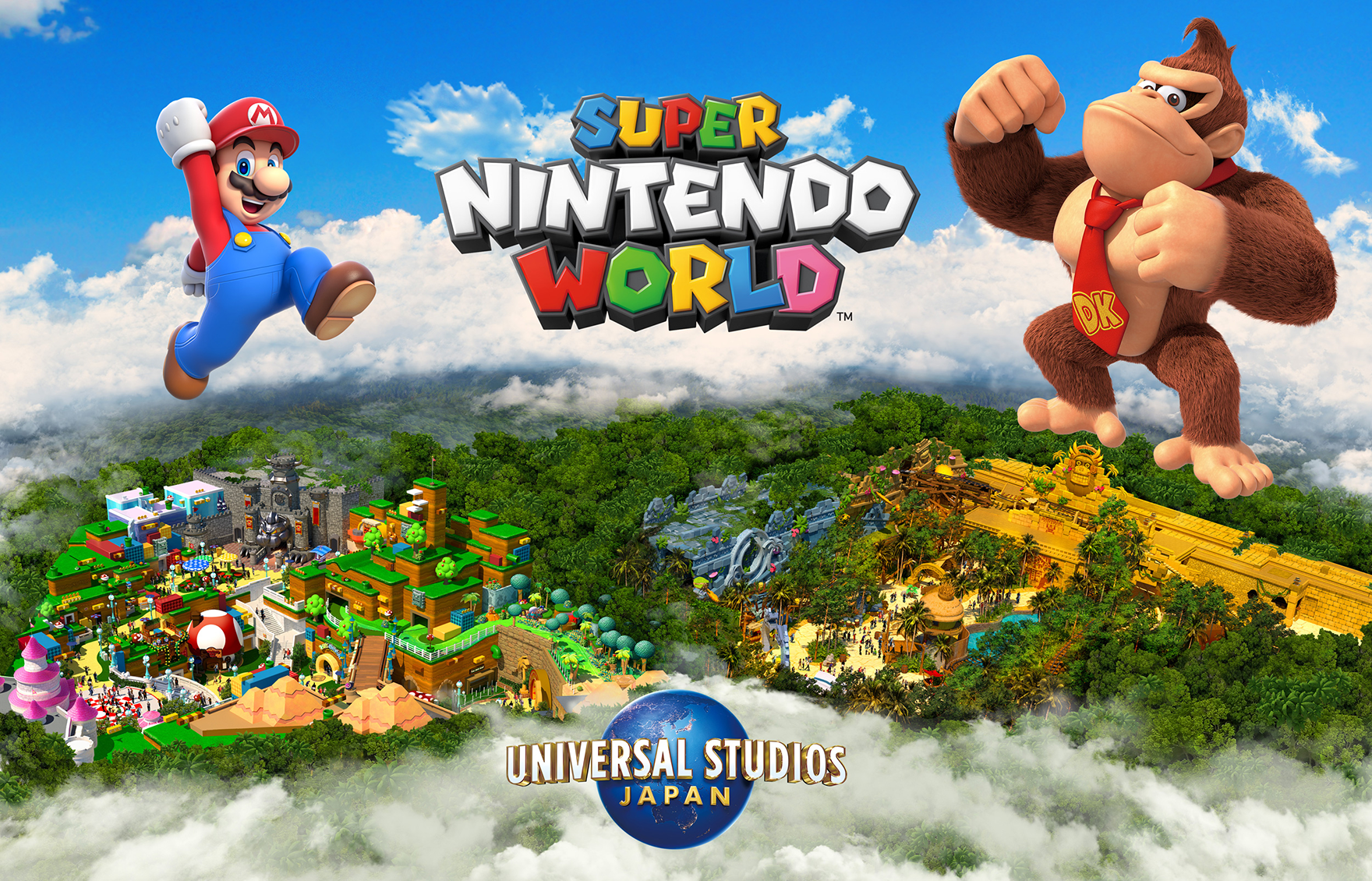 Nintendo's Donkey Kong franchise started with an arcade game in 1981 and quickly captured the hearts of fans around the world. Since then, the Donkey Kong game series has continually delivered more games on Nintendo video game systems, such as the Super Nintendo Entertainment System, Wii, and Nintendo Switch. The series has sold over 65 million units (as of March 2021) worldwide to generations of fans.
The Universal creative team and the Nintendo creative team — including Shigeru Miyamoto, the creator of Super Mario — will bring the new Donkey Kong themed area to life. The area will be a gamechanger that combines the innovative technology and globally popular approach to theme park entertainment of Universal with the creativity of Nintendo. With the addition of the Donkey Kong area, SUPER NINTENDO WORLD at Universal Studios Japan will increase in size by approximately 70%.
J.L. Bonnier, President & CEO, Universal Studios Japan
SUPER NINTENDO WORLD creates a whole new level of theme park entertainment and has quickly become an exciting, must-do experience for our guests. We are thrilled to continue working with Nintendo as we fulfill our vision to bring their characters and stories to life. Our new Donkey Kong themed area will bring even more excitement and fun to the SUPER NINTENDO WORLD experience.
Shigeru Miyamoto, Representative Director, Fellow of Nintendo
I am very happy to be able to make the world of Donkey Kong a reality following the world of Mario. I am looking forward to creating a thrilling Donkey Kong experience with the amazing team at Universal. It will take some time until it is completed, but it will be a unique area for not only people who are familiar with Donkey Kong games, but for all guests.
*Based on Universal Studios Japan's in-house research of facilities based on the world of Nintendo brand characters.
About Nintendo
Nintendo Co., Ltd., headquartered in Kyoto, Japan, has created franchises that have become household names worldwide, including Mario™, Donkey Kong™, The Legend of Zelda™, Metroid™, Pokémon™, Animal Crossing™, Pikmin™ and Splatoon™, through its integrated hardware and software products. Nintendo aims to deliver unique, intuitive entertainment experiences for everyone, manufacturing and marketing video game devices such as the Nintendo Switch™ family of systems, developing and operating applications for smart devices, and collaborating with partners on a range of other entertainment initiatives like visual content and theme parks. Nintendo has sold more than 5.1 billion video games and over 800 million hardware units globally. From the launch of the Nintendo Entertainment System™ more than 30 years ago, through today and into the future, Nintendo's continuing mission is to create unique entertainment that puts smiles on the faces of people all over the world.