Nintendo Co., Ltd. (HQ: Kyoto, Minami-ku, Japan; Representative Director and President: Shuntaro Furukawa) announced that domestic sales of the Splatoon 3 game for the Nintendo Switch system have surpassed 3.45 million units* in the first three days since its launch on September 9, 2022. This is the highest domestic sales level for any Nintendo Switch software within the first three days.
* According to Nintendo. This includes both packaged and downloadable versions.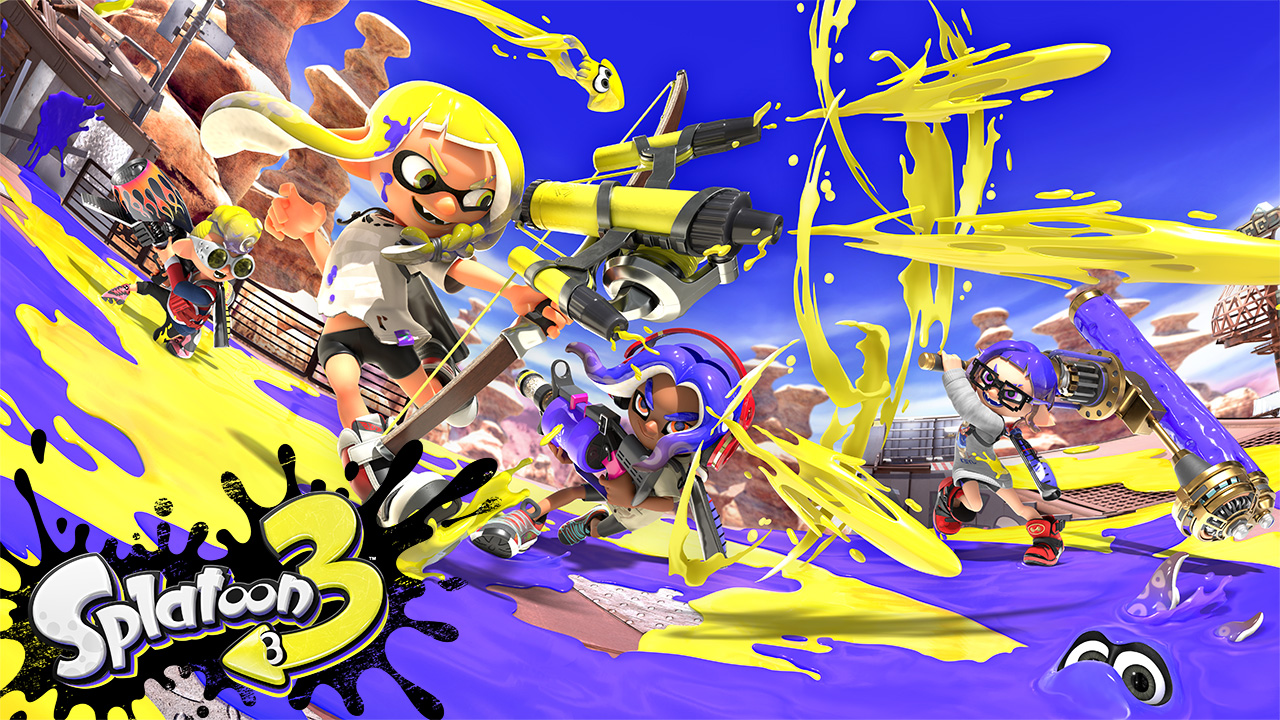 In the Splatoon series of action-shooting games, players play as Inklings — squid characters that can also take on a humanoid form. Nintendo launched the Splatoon game for the Wii U system in May 2015, and the Splatoon 2 game for Nintendo Switch in July 2017.
Splatoon 3 is the latest game in the Splatoon series, in which players face off against each other in two teams of four players, claiming territory by covering it in ink in Turf War battles. Building on the series' foundation, Splatoon 3 adds new weapons, special weapons, and action to the game. In Splatsville, a chaotic city crowded with various elements, players can enjoy a large variety of battles: not only Turf War battles, but also the Story Mode in which players can battle and discover a mysterious place called Alterna on their own; and Salmon Run, where up to four players can work together and fend off powerful bosses. In addition, Nintendo will add more weapons and stages through updates for two years after launch, and hold events such as Splatfests, where players split into three teams to claim turf and overall victory. Players can connect with others around the globe online*, as well as play together locally, each with their own Nintendo Switch system.
* Nintendo Switch Online membership (sold separately) is required for online features.
Nintendo will continue its efforts to deliver Nintendo like entertainment including Splatoon 3, and communicate the features and values of Nintendo Switch, which customers can play anytime, anywhere, and with anyone.
For more information about the Nintendo Switch – OLED Model system and to compare it with other systems in the Nintendo Switch family, please visit our product page .
To ensure that your child can play Nintendo Switch safely, we offer the Nintendo Switch Parental Controls mobile app for parents and guardians. For details, please visit our website.
About Nintendo
Nintendo Co., Ltd., headquartered in Kyoto, Japan, has created franchises that have become household names worldwide, including Mario™, Donkey Kong™, The Legend of Zelda™, Metroid™, Pokémon™, Animal Crossing™, Pikmin™ and Splatoon™, through its integrated hardware and software products. Nintendo aims to deliver unique, intuitive entertainment experiences for everyone, manufacturing and marketing video game devices such as the Nintendo Switch™ family of systems, developing and operating applications for smart devices, and collaborating with partners on a range of other entertainment initiatives like visual content and theme parks. Nintendo has sold more than 5.4 billion video games and over 800 million hardware units globally. From the launch of the Nintendo Entertainment System™ more than 30 years ago, through today and into the future, Nintendo's continuing mission is to create unique entertainment that puts smiles on the faces of people all over the world.