Presentation by the President |
Q & A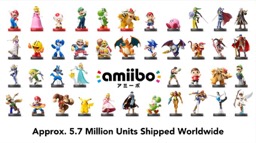 We also launched amiibo, our new category of products, at the same time as "Super Smash Bros. for Wii U."
We had already shipped 5.7 million units worldwide by the end of last year.
amiibo is performing especially well in the U.S., Canada and Australia. Some figures are sold out and are being sold at online auctions at premium prices – something which none of us had predicted.

I can say that amiibo has kicked off smoothly, as it is a brand-new product category, launched with a much lower recognition rate than other action figure related proposals from other companies.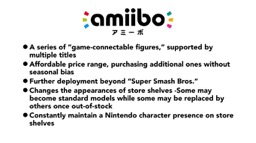 First of all, amiibo is a series of "game-connectable figures" supported by multiple titles.
"Super Smash Bros." was the first title to support amiibo, followed by "Mario Kart 8," "Captain Toad: Treasure Tracker," and "Kirby and the Rainbow Curse." We are planning further compatibility in various software titles.
amiibo is offered at a more affordable price range than packaged game titles, so consumers may feel the hurdle has been lowered to buy them one by one without seasonal gaps. In fact, considering the recent sales, amiibo has shown a smaller decline after the year-end sales season in various markets in the world than packaged titles. Also, I think amiibo can contribute to maintaining active use rates of Nintendo platforms by periodically bringing fresh topics to the applicable software through releases of new amiibo figures.
The first amiibo series after "Super Smash Bros." will be "Super Mario," which is compatible with "Mario Party 10."
We are going to add various changes to the appearances of amiibo store shelves including the "Super Smash Bros." series. As store shelf space is limited, some amiibo may become standard models while others may be replaced once they sell out.
If this is possible, amiibo will maintain a constant presence in stores, which will be beneficial for all Nintendo platforms.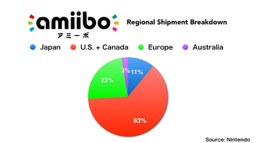 This is a pie chart indicating the regional shipment breakdown of amiibo from its launch until the sixth week of this calendar year.
As you can see at a glance, the sector in red representing the U.S. and Canada accounts for a significant portion: 63 percent. The sell-through proportion of the total shipment is approximately 70 percent in each of Japan, U.S. and Canada, and Europe while it reaches 90 percent in Australia.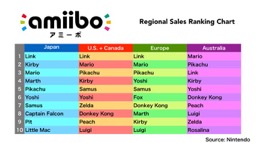 This is the regional top sales ranking chart of each amiibo figure. This does not perfectly represent the popularity or demand for each character because some amiibo were out-of-stock in some regions, but you can certainly see some regional differences in the sales trends.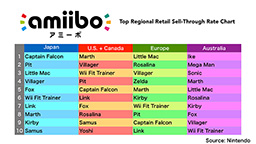 This chart shows the amiibo figures with a high retail sell-through rate in each region. Some of the amiibo listed here are already sold out and are now difficult to obtain.
It is difficult for us to promise to continuously ship all of the amiibo figures. We will, however, consider additional production in cases such as when an amiibo figure sells out shortly after launch, an amiibo is indispensable to play a certain game, and when we receive a lot of requests for an amiibo figure from consumers and retailers.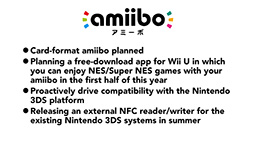 In contrast to the current figure-shaped amiibo available, we will make amiibo in the form of cards this year as one of our future plans as Mr. Miyamoto mentioned at the Corporate Management Policy Briefing in October.
We are also planning a free-download app for Wii U in which you can enjoy NES and Super NES games with your amiibo in the first half of this year.
With this app, once you tap your amiibo on the NFC area of the GamePad, you will be able to play highlighted scenes of one certain title for NES or Super NES. You cannot play the entire game due to a time limit, but another tap of the amiibo will enable you to try another highlighted scene in the game. We hope that when you tap your amiibo, the quickly changing game scenes will pleasantly surprise you and make you feel as though you have just exchanged a game cartridge.
Even though only Wii U has been compatible with amiibo so far, we are making steady progress on compatibility with the Nintendo 3DS platform. New Nintendo 3DS is equipped with NFC as a standard feature. For existing Nintendo 3DS systems, we will release an external NFC reader/writer in summer this year. On the software side, "Super Smash Bros. for Nintendo 3DS" started to support amiibo after a software update in February.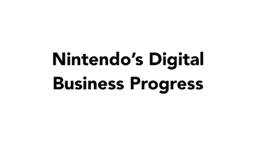 Now, I would like to explain the progress in our digital business, which will play a very important role in our efforts to expand our business.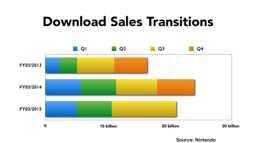 These graphs show the download sales transitions in the recent three financial years.
Our download sales as of the end of the second quarter of this fiscal year were a bit lower than those in the previous fiscal year. Yet, the most recent nine-month download sales showed a year-on-year increase of 17 percent to reach 21.1 billion yen.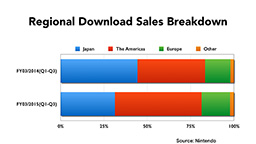 These are the regional download sales breakdowns for the nine months of this fiscal year and the previous one.
You can see the decrease of the ratio of the Japanese market, where there were some hit titles including "StreetPass Mii Plaza" and "Rusty's Real Deal Baseball" in the last fiscal year. In contrast, the Americas dramatically increased its proportion, followed by Europe.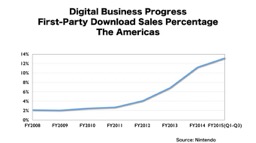 In the U.S., purchases of digital products in general have been widely accepted by consumers. As a result, the ratio of people who purchase and download digital game software is high. As you can see, when we focus on the Americas and create a chart of the download sales percentage of the total software sales, the ratio of the download sales has been increasing largely in the most recent three fiscal years.
Of course, there are some gift-giving opportunities such as holidays and birthdays when packaged software is preferred over the digital version. Yet, as we have been continuing our various efforts in this field, I hope you can see that Nintendo's digital business is making steady progress. Specifically, not to mention the increased purchasing at Nintendo eShop on Wii U and Nintendo 3DS, our efforts to increase digital purchasing opportunities, such as via online e-commerce sites that we mentioned during the previous Corporate Management Policy Briefing, have been showing results.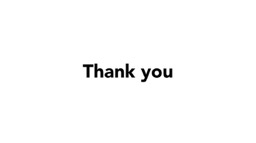 That's all for my presentation today. Thank you for listening.