6
Iwata:
First of all, I would like to thank you for your comments on the value of Wii U from the viewpoint of a shareholder who visited E3 as a non-exhibitor.
In my previous answer today, I explained about such market concerns over Nintendo as, "Can Nintendo 3DS recover its momentum?" and "Is Wii U really a revolutionary product?" I think that there are two additional points to cover. One is the exchange rates, in which the yen's rapid appreciation could have an adverse impact on the results of Nintendo because it has large sales in foreign currencies. The other is just what you have inquired about: how many people in the future will dare to buy Nintendo's systems when they can play video games with high-performance mobile phones or smartphones? Also, how are the free games under the brands of Mobage and GREE by DeNA and GREE respectively in Japan affecting Nintendo's business? I understand that they have adopted the system with which you can start their social games free of charge in the beginning, but you are required to make payments to play more conveniently or to advance in them. So, the concerns in the market in this regard are that there may be an adverse effect on Nintendo's software sales due to such social games that can be played free of charge at the beginning and that Nintendo's business model may eventually become outmoded.
It is a fact that Nintendo's results once peaked and then started to decline at the same time that social games started to gather interest and win over many users. Therefore, a lot of people assume that there is a causal correlation between the two, and about 80 percent of economic articles on Nintendo seem to say that Nintendo is having a hard time due to social games. However, two things can happen by cause or by coincidence, and I think it very important to find out which is true. If there is a causal correlation, those playing both Nintendo DS and social games will play with Nintendo DS less frequently or become less likely to purchase Nintendo DS software. Because they will spend more of their disposable time and income on social games, there must be a meaningful gap of active use ratios of Nintendo DS if they also play games on their smartphones or play with the social games.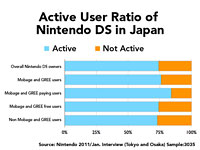 We conduct a semi-annual extensive consumer survey both in Japan and in the U.S. Because Nintendo's basic strategy is to expand the gaming population, for us to make appropriate decisions it is necessary to know how large the gaming population is and how many people are playing with Nintendo DS, Wii or other platforms. During the survey, we have recently investigated the number of social game players and the influence of social games on the active use ratios of Nintendo DS. Please take a look at this graph. The top bar shows the entire number of Nintendo DS owners. As no less than 30 million units have been shipped to consumers in Japan, naturally some of them are not actively playing with it these days. You can see that about three-quarters of the total number of owners are still actively playing with Nintendo DS but the rest are not. The second bar represents those playing both Nintendo DS and Mobage or GREE, in which, as you can see, the active use ratio of Nintendo DS is, in fact, higher than that of the average Nintendo DS owner. This is a totally converse phenomenon to what many newspaper reporters and analysts are saying. I feel that the fact that, these days, Nintendo has not released software products on Nintendo DS that are as attractive to consumers as before has lowered the overall active user ratios and made Nintendo DS less represented in society and, just incidentally, Mobage and GREE have increased their number of users at the same time. The third bar is the paying users of Mobage and GREE, who represent only a small part of all users of them but pay for additional items and more convenience after starting free games. The active user ratio of Nintendo DS of such users is much higher than that of the average Nintendo DS owner. I understand that this situation is also contrary to the public perception. The only explanation I can find is that these users love games. They are spending more time both on Mobage or GREE and Nintendo DS. Then, those who play only free games are playing with Nintendo DS as much as the average Nintendo DS owners. What surprised me was the result that the active user ratio of Nintendo DS of those who do not play Mobage and GREE is a little lower than the average Nintendo DS owners. After all, it is not true that consumers are moving from Nintendo DS to Mobage or GREE as a kind of crucial social change. In addition, players of paid social games purchase more Nintendo DS games than average: 1.2 per year for an average Nintendo DS owner and 1.5 per year for a paying social game player. This is the situation in Japan.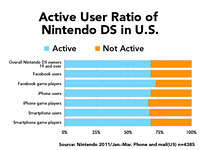 Looking at the U.S. situation, Mobage and GREE have little presence there. It is said, however, that more and more people are playing games on Facebook, the world's largest social networking service. Some analysts insist that those who once played "Wii Fit" are now playing with social games on Facebook, making Nintendo outdated, but I would like to show you data which negates this assumption. Let's focus on the users 19 years old and over, as social networking services are basically for adults. The active user ratio of Nintendo DS is just short of 70 percent, a little lower than that in Japan, because this data does not include children, who are in fact more intensively playing with Nintendo DS. No difference is shown with Facebook users. In fact, the active use ratio of Nintendo DS is even higher among the Facebook users. The next bar represents iPhone, which is much more popular in the U.S. than in Japan, but there is no meaningful gap between those who have an iPhone or play games on iPhone and those who do not. The bar on the bottom represents smartphones, which means high-performance mobile phones other than iPhone, including Android, Windows Mobile and BlackBerry, but there is almost no gap either. In summary, I would like you to understand that, so far, consumers have not stopped playing with Nintendo DS because they are using these services or playing social games.
However, my intention of sharing all these data is not to say that we will be all right forever. Today, there are an increasing number of opportunities where people can see video games as entertainment which we can start free of charge. A free start is a powerful means of attracting many consumers, but it could be a drastic medicine with side effects. You mentioned "going too far" in your question, and what could simultaneously happen is the destruction of the value of video games. That is to say, consumers have thought that the money they pay equals the value extracted from, for example, "Super Mario," which has helped the growth of the video game industry and made it possible for companies to develop elaborate games with rich user experiences for tens or hundreds of millions of people worldwide who are willing to pay for such games. Therefore, the concept "video games are basically free" could have a big impact on the industry. In the keynote presentation I was privileged to make at the GDC (Game Developers Conference) held in San Francisco in the U.S. in March, I said that video game developers should be increasingly conscious of trying to preserve the high value of the games they develop, or otherwise the value could easily be dragged down by low-priced or free ones, so all of us must be careful. Despite the complete text of the presentation being available on our website, unfortunately, many reported that Nintendo got angry about social games or criticized free games, and we have not been able to fully correct such distorted reports yet. Under these circumstances, anyway, the important points are how to innovate our business model and how to continue to develop games, and the value of which shall be appreciated by consumers. Naturally, for our core products like "Pokémon," "Super Mario" and "The Legend of Zelda," Mr. Miyamoto and I have to dedicate ourselves to leading our company and to continuing efforts to have consumers appreciate the value of these products. On the other hand, we understand that the current packaged form is not necessarily suited for any and all the entertainment products we will be making. As an example, Nintendo therefore built Nintendo eShop for Nintendo 3DS. At a past shareholders' meeting, we received the opinion that Nintendo should improve the design of its digital software distribution shop, and I think that we made measurable progress with Nintendo eShop. Additionally, when Nintendo would like to ask users to try a specific new game, we should deliver it to their Nintendo 3DS, and possibly Wii U, with their prior consent and recommend that they just try it and, if they like it, they can pay for it. In this way, we need to introduce users to unknown products. Consumers are likely to be convinced to pay about 5,000 yen for a well-established franchise product, but not all the people are willing to pay a certain amount of money for an innovative but unknown product. Now is the time to prepare for these situations. We would like to respond to some of the concerns surrounding our business in this manner.