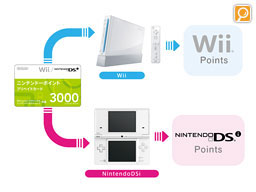 When you charge Nintendo Points to Wii console, it will be used as "Wii Points." When you charge it to DSi, it will be used as "DSi Points."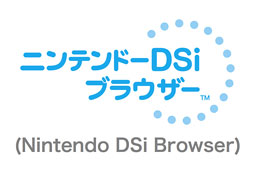 As the very first software title to be offered through "DSi Shop," Nintendo will start distributing "DSi Browser" free of charge simultaneously with the launch of DSi.

The "DSi Browser" is an internet browser, co-developed by Opera and Nintendo and comprehensively tuned exclusively for Nintendo DSi.
This tuning made the browser faster, and now that it can be incorporated into the device, the utility aspect has been significantly enhanced.

Furthermore, when we enabled faster communications for DSi Browser and DSi Shop, we also achieved faster Wi-Fi communications for Nintendo DSi. When you use the Wi-Fi function of existing Nintendo DS software, the speed does not increase. However, for the software specifically made for Nintendo DSi, it is possible to realize faster communications.
As the 2nd software to be downloaded free of charge through "DSi Shop", we will launch "Moving Notepad" this year.

"Moving Notepad" enables users to create hand-written memos. Of course, I am not talking about an ordinary notepad. For example, you can create cutoff animations, and this cutoff animation can talk.
You create this "talking cutoff animation" by utilizing the microphone to record voices .
Even after watching this footage, many may still say, "forget about cutoff animations as I cannot draw a picture." I can relate to you, but, ...
For some people like me, we will enjoy using the camera to create pictures. So, even if we cannot draw pictures, we can still create unique movie works.
We are also planning to provide the framework so you can exchange your cutoff animations with your friends. We are not yet ready to provide all of the details of this feature but we expect to be able to do so in the near future.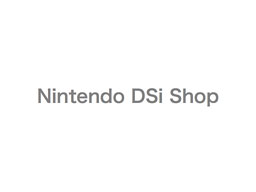 And, at the end of this year, we will begin offering the download sales service of "Nintendo DSiWare" through "DSi Shop."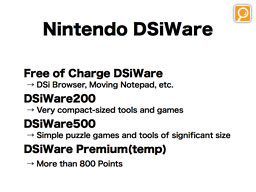 The "Nintendo DSiWare" can be categorized into roughly 4 categories: Other than DSi Browser and Moving Notepad and other software that Nintendo offers free of charge, there will be "DSiWare 200" that you can purchase at 200 Points, "DSiWare500" at 500 Points, and "DSiWarePremium" that requires 800 Points or more. For DSiWare200, we are planning to offer very compact utility types of applications and small games, and for DSiWare 500, simple puzzle games and other more sophisticated utility tool application.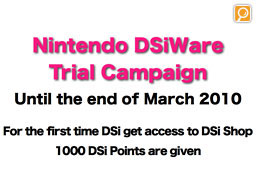 So that as many of our consumers can experience the DSi Ware download by accessing DSi Shop, we will conduct DSiWare trial campaigns to provide consumers with 1000 Nintendo DSi points when they purchase DSi and get access to DSi Shop. This special offer will run through the end of March 2010. We really hope you will experience the joy of creating your own or MY DS by downloading your favorite DSiWare to your Nintendo DSi, but we will announce the details at the next opportunity. As for the detailed lineup of DSiWare, we are planning to announce it in the near future, but I'd like to show some of them today.
As you know, the two software titles from the Brain Training series for DS have created the "brain training" craze all across Japan. We have redeveloped these games as two DSiWare called "Small Brain DSi Training Everyday for Adults" Literature Edition and Science Edition so that you can bring with you anytime and enjoy playing for a few minutes everyday. In addition to the Trainings which were popular with the past two titles, we are preparing new Trainings, some of which make use of photo-shooting and other new abilities of DSi. The software can be stored in the internal memory of DSi and it can tell you in advance approximately how long it will take for a training to be completed, so it is really handy for you to enjoy any spare time you have. Also, the popular Virus Buster mini-game from More Brain Training was included, and you can save the data even before you complete one game.