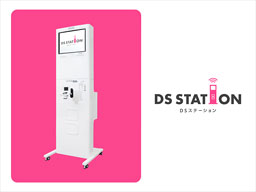 By now, we have established Nintendo DS Stations in approximately 1000 retail outlets in Japan.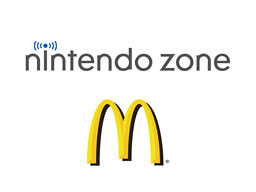 As the 2nd step to establishing these Wi-Fi connection points, we will start the new service called, "Nintendo Zone."
As the first step, we have formed collaboration with McDonalds and we will start the Nintendo Zone service at McDonald outlets in Kanto, Chukyo and Kansai regions.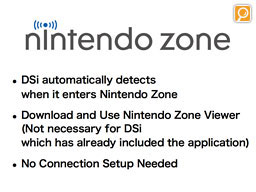 When you enter a "Nintendo Zone", the icon of Nintendo DSi flashes to notify you.
When you use Nintendo DS or Nintendo DS Lite to use the same service, you will first need to download "Nintendo Zone Viewer." In the case of Nintendo DSi, that function is already preinstalled in the internal memory, so you can use the services more easily.
When you are inside Nintendo Zone, no connection setup activities are required.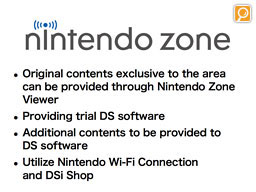 Original content exclusive to the area will be provided through the Nintendo Zone Viewer. The trial versions of DS software are already provided. In addition, for each DS software, the publishers are able to make additional content available for the download. DS can also take advantage of Nintendo Wi-Fi Connection.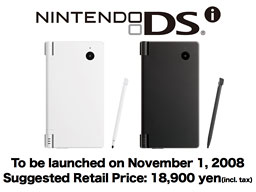 Nintendo DSi will launch in two colors: Matte White and Matte Black.
The suggested retail price of Nintendo DSi is 18,900yen. We will launch it on November 1 2008 in Japan.

As for the non-Japanese markets, this new product will be launched in 2009, and details shall be announced by local markets later.

Well, I have so far explained about the new family member of Nintendo DS called Nintendo DSi.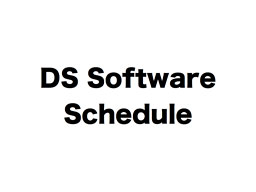 In addition to the hardware, I would like to explain about the DS software plan.
In the most recent summer sales season, Dragon Quest V became a million seller soon after its launch.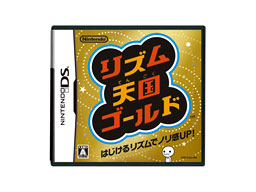 Rhythm Heaven is still selling more than 50,000 copies a week even today after more than two months after the launch. It is showing the typical sales trend of Touch Generations software, and reaching the one million sales mark in the near future appears to be almost guaranteed.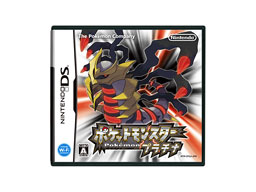 Pokémon Platinum, which was launched on September 3, set a DS software launch period sales record by selling through 1 million copies within just three days, and 1.5 million copies were sold in 3 weeks. Pokémon Movie last year made the record by selling 2.16million presale tickets sold, but this year's movie renewed that record by selling 2.36million presale tickets. We feel that their efforts to make premium Pokémon available for download to DS while fans with DS are watching Pokémon movies at movie theaters have been appreciated by the fans. Also, according to our Club Nintendo's data, older consumers who used to enjoy the past Pokémon series are enjoy playing with Platinum.
As for the new titles to be launched, first of all, I would like to introduce you to the latest addition to our Touch Generations series. It's called (in Japanese), "Walking Can Tell Your Life Rhythm DS." As you can see, two units of the "Life Rhythm Counter" are attached to the software. This "Life Rhythm Counter" is similar to a pedometer, which does not have a display screen, but by communicating with DS, you can know what level of activities you were engaged in and during which time period. In other words, you can confirm your "Life Rhythm." By keeping the record everyday, it will visualize your weekly "Life Rhythm" and it keeps track of the number of steps you make everyday. This Life Rhythm Counter counts your steps per minute and can tell when in a day you were making steps. Also, your Mii appears for the very first time for DS with this software. You can transfer the Miis of your family from Wii.
We will sell Life Rhythm Counter at 1800 yen separately as well. One software keeps the data for up to four people.
From now until the end of the year, engaging software for DS will be launched one after another every week. Great numbers of people in different demographics already enjoy playing with many types of DS software. By the end of this year, our DS software lineup will be so rich that those existing consumers who have already enjoyed DS game experiences will feel that there are many more games that suits their tastes. What we are showing today is just a part of all the games scheduled to be launched this year, and as you know, many DS titles are selling for long periods of time, so the DS library is actually richer. A variety of titles are waiting for you including the titles which can be played by anyone regardless of age, gender and the past game play experience, the titles that can be played very quickly at a time and the titles that are challenging enough for veteran gamers, as well as the games which can be more fun when you are playing with your friends.