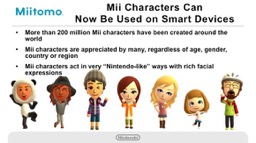 More than 200 million Mii characters have been created around the world and have been appreciated by many people, regardless of age, gender, country or region.
Miis are unique characters who act in very "Nintendo-like" ways with rich facial expressions.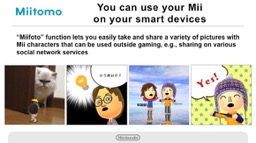 Also, Miitomo comes with a feature called "Miifoto" with which you can create and share various pictures with Mii characters.
The pictures created with Miifoto can be stored on your smart device and can be shared with various social media networks, so these pictures can be used beyond gaming.
Quite a few consumers have used their Mii in their profile picture of various social networks. We hope more people will enjoy Miitomo to use Mii in such fashions as well.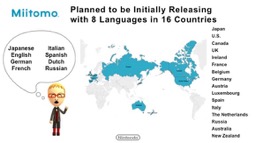 Miitomo is an application that is highly reliant on language, as it introduces a fun new style of communication. We think there will be a variety of different ways that people in different countries speaking different languages will enjoy this app.
As such, we will start by releasing Miitomo in these 16 countries, and as we receive feedback from our consumers about their experiences and establish customer support structures, we will gradually increase the number of available countries for Miitomo.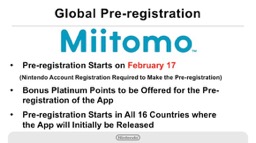 Before Miitomo is released in March, Nintendo will start accepting the pre-registration of the app from February 17.
You will need your Nintendo Account to pre-register.
Anyone who pre-registers for Miitomo will receive Platinum Points via My Nintendo, and will be notified on Miitomo's launch day so that they can download immediately.
We will start this pre-registration for Miitomo not just in Japan but in all 16 countries where the app will initially be released.
(Note: Outside Japan, Nintendo Account registration starts simultaneously on February 17, with the start of pre-registration of Miitomo, in all the countries where My Nintendo services will be formally started in March.)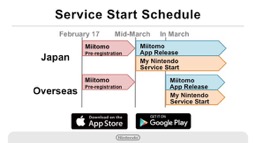 Miitomo will be released on iOS and Android.
We will release Miitomo in Japan in mid-March and in the other 15 countries by the end of March.
The services of My Nintendo that I mentioned earlier today will also be formally started simultaneously along with the release of Miitomo.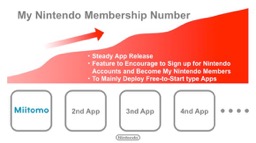 As we have previously discussed, we are aiming to further advance our "gaming population expansion" strategy and aim to "grow the population who have access to Nintendo IP (intellectual properties)." To achieve this goal, our increasing the number of My Nintendo members will be one of the most important missions.
Accordingly, after the release of Miitomo in March, we will steadily release game apps for smart devices.
Because we want as many people as possible to enjoy Miitomo, we have designed it so that creating a Nintendo Account and becoming a My Nintendo member is not required. But when we release smart device apps with our popular IP in the future, we will design them in a way that will encourage consumers to become My Nintendo members.
For each app, we will review and select the most appropriate payment system by taking into consideration the nature of each IP. But we are thinking of mainly deploying free-to-start type apps as we hope as many people as possible among hundreds of millions of people all around the world who own smart devices will experience our apps.
We are intending to significantly increase My Nintendo membership by all these measures.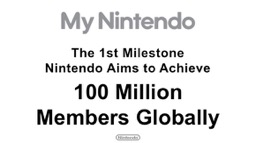 We would like to set "100 million My Nintendo members globally" as our initial milestone. Since this number should be considered as a check point, we will make efforts in order to achieve this number at the earliest possible timing.
We believe that the bigger the size of My Nintendo, the greater the enjoyment and value we will be able to provide to our customers.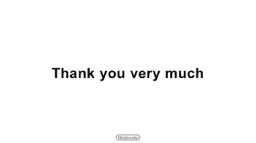 That's all for today's presentation.
Thank you very much.
【Disclaimer】
 The contents of this briefing as well as of the accompanying documents and materials are based upon the information available, and the judgment which can be made, at the time of the announcement. The company does not owe responsibility to update or change them in case differences are caused due to some future events or others.
 Also, forecasts referred to in this briefing and accompanying materials and documents involve known and unknown risks and uncertainties. Please note that such risks and uncertainties may cause actual results to be materially different from the forecasts.