12
Iwata: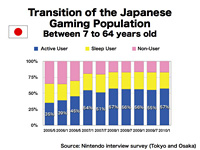 Please look at this slide, which shows how the Japanese gaming population has shifted. The leftmost bar is May 2005 - around the time when Brain Training for Nintendo DS was released. The rightmost bar is January 2010 - comparatively recent. We have gathered this data by conducting interviews continually with 3,000 people in Tokyo and Osaka. We have been investigating how many people play or do not play video games, and if an interviewee does play, which machine he or she plays. In order to analyze the results of our "gaming population expansion" goal, we needed quantitative information. There was no publicly announced data regarding how many people continue to play video games, although we were aware of how many game machines were sold. Therefore, we had no other choice but to investigate it by ourselves, ongoing for five years now.
The blue portion shows the proportion of people who have played home video game machines in the most recent year. It refers to the people who have played not only Nintendo's machines, but any and all video game consoles and handheld devices excluding cell phones and the like. The yellow represents people who used to play video games like Nintendo Entertainment System or Game Boy, but have not played in the last year. The pink refers to people who have never played video games in their lives. To sum up, the goal of "gaming population expansion" is to attract the people in the yellow portion back, or to invite the people in the pink area to the blue area.
At first, the proportion of people who were playing video games was only 35% among 7 to 64-year-old people in Japan, but this proportion has changed rapidly. We believe that the spread of Brain Training and the release of Wii have played very big roles.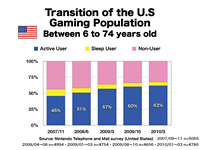 The gaming population once peaked at 57%, but then showed a slightly downward trend in Japan. However, this trend seems to have recovered again since our New Super Mario Bros. Wii became a huge hit - like a social phenomenon - at the end of last year. It was very tough for us to develop a method to gather precise data in the U.S. In Japan, we could obtain data representing almost all Japanese people by conducting a study only in Tokyo and Osaka. But in the U.S., the regional or income differences are larger than those of Japan, and therefore, it took a long time for us to settle on the research methodology. We have been able to obtain acceptable data since the end of 2007.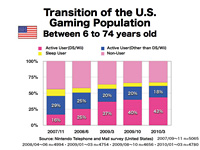 As you can understand at a glance, the proportion of sleep users in yellow is very low. In other words, Japanese people are more likely to stop playing video games soon after they purchase them, whereas American people tend to continue playing for a longer period. Originally, the Japanese proportion of the gaming population was higher than the American one, but in recent years this relation has been reversed, and the American proportion has reached a very high 62%. For more information, this is explained in the color-coded graph showing the proportion of customers of Nintendo DS and Wii. We think this data is valuable as it explains the fact that Nintendo DS and Wii have helped to expand the gaming population in the U.S.
In Europe, there are huge differences among the countries. In the U.K., the size of the gaming population is comparatively high like in the U.S. Meanwhile, the German gaming population is very small. Social acceptance of video games seems to be very low in Germany, which means that there are still many people taking a hostile view towards video games. To some degree, it may be due to the large number of war-themed video games (in Western countries) which enable players to shoot guns. German society has strong feelings of rejection towards these things, partly because of their historical background.
France is in the middle position between Germany and the U.K. Additionally, the product-diffusion rate differs depending on the country. It is extremely fast in Japan and the U.K., while it is slow in the U.S., and much slower in Germany. The speed of customers' acceptance of new products also varies. Therefore, we always try to face the European market with a deep understanding of each country's unique characteristics, and we believe that this approach has helped us to expand our business in Europe.