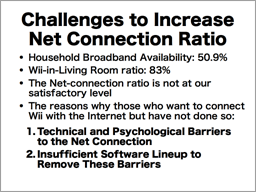 Already 50.9% of the Japanese households have a broadband connection. Also, as I said, 83% of the Japanese households with Wii are setting Wii in their living rooms. However, the number of households which have connected their Wii hardware to the Internet is not enough, as it is less than that of the Household Broadband Availability ratio. We are also aware that many people want to connect Wii with the Internet but have not actually done so. We believe there are two reasons for this: First, the technical and psychological barriers to connect with the Internet are too high; and second, we have not offered sufficient software yet to help overcome these barriers.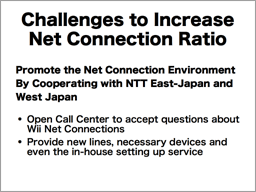 So, beyond the need to offer a software lineup to encourage Wii users to want to connect their Wii with the Internet, we also need to promote an environment to help customers remove psychological and technical barriers preventing Internet connections. In Japan, Nintendo will cooperate with NTT East Japan and NTT West Japan to promote a favorable net-connection environment. More specifically, we will together establish and operate a call center that will exclusively answer inquiries on Wii's net connection. For those customers who do not have an Internet connection at home, we would like to provide a full package at a minimum cost including a new line, necessary devices and setting up the service at home. We would like to start from these two points. We will make more details available in the near future.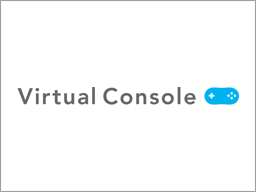 Well, one of the representative services that you can enjoy by connecting your Wii with the Internet is "Virtual Console".
We started to offer Virtual Console software downloads when we launched Wii last year. The number of downloadable software titles has regularly increased to a total of 203 available today in Japan.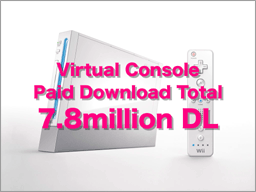 As of last week, the total number of global Virtual Console paid downloads has reached 7.8 million. Luckily, our Virtual Console has been supported by customers around the world. What we are planning to do next is…